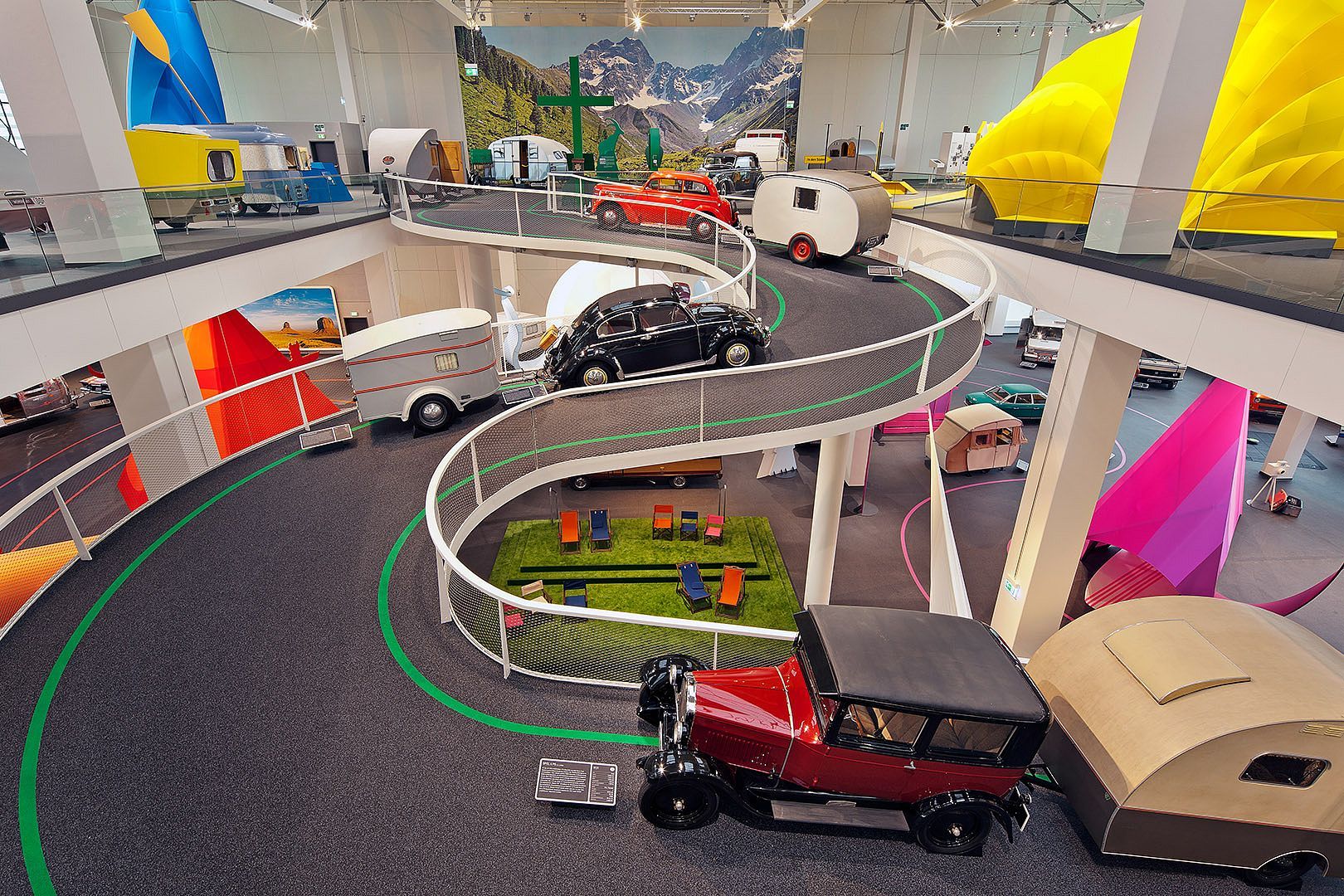 Your personal tour of our exhibition:
Embark on an exciting journey around the world on one of our guided tours. Get a feeling for the lifestyle as well as the holiday and travelling experience: free, unconventional and yet sociable – spiced up with a little technological development and history. These guided tours are suitable for all age groups.
Around the world in 80 caravans:
Our classic tour takes you on a sightseeing trip of the highlights of our exhibition and the fascinating places you've always dreamt of visiting in 80 caravans. (90 minutes)
A bed goes on a journey:
All about sleeping on roofs and tables, in alcoves and drawers. Find out how and where caravan travellers have slept over the past 80 years. (90 minutes)
Rooms available: The house on a hook:
Who came up with the idea of building homes on wheels and why? Get an insight into where the caravan pioneers came from and their history. (60 minutes)
Caution: Car gypsies underway!:
Travel along the routes taken by the car gypsies and find out just how much this term has shaped, and continues to shape, camping culture. (60 minutes)
Prices
Guided tours in German
(60 minutes): € 100.00
Guided tours in German
(90 minutes) € 100,00
Guided tours in english
€ 120,00
Prices for groups of up to 20 people,
plus admission fee

Open guided tours
Our open guided tours (in German) take place on Sundays and public holidays at 2 p.m. and on Thursdays at 5 p.m.
No registration is required. Just turn up and join in!
Cost for adults: € 5 plus museum admission fee
Children and teens up to 18 years: 2 €, receive free admission
Advance bookings / Organisation
Tours start according to arrangements made. In order to provide optimum acoustic and visual conditions, a maximum of 20 people are allocated to one group. For larger groups, please book the appropriate number of guided tours.
Registered guided tours which are not attended can be cancelled free of charge by 12 p.m. one day prior to the booking; we ask you to inform us by 12 p.m. on Fridays if cancelling a weekend booking.
Advance booking is necessary to ensure that your group is well-catered for and that things run smoothly. The bus driver and tour guide can enter the Erwin Hymer Museum free of charge, and will receive a free meal in the museum restaurant.
We are happy to provide you with a quote and also to contact you by telephone.
Booking and Consultation:
Phone: +49 7524 976676-45
buchung@erwin-hymer-museum-nospam.de